Resources
/
Home & Family
/ 50 Creative Potluck Themes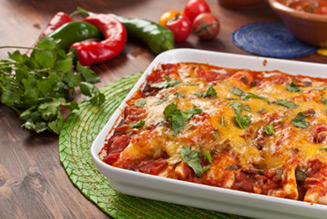 Potlucks are a fun and easy way to bring people together. Enjoying yummy food and wonderful company is delightful on it's own, but try one of these unique ideas to add some festive flair! 
1. It's a Small World - An International Potluck with specialties from around the world creates a bold, engaging atmosphere.
2. Mexican Fiesta – The menu could include tortilla chips and guacamole, taco shells, refried beans, seasoned shredded chicken or ground beef, fajitas, enchiladas. Spanish rice and diced mango will really give your potluck old world sizzle.
3. Breakfast for Dinner – How about waffle bar with fun toppings or customized omelets?
4. Southern BBQ - There are few things in the South more universally revered than a good ole' southern barbecue potluck. A plentiful potluck may include cornbread, baked beans, potato salad, coleslaw, macaroni & cheese, cobbler and banana pudding.
5. Alphabet Soup – Pick a letter and run with it! The letter "C" may inspire a menu including chili, chowder, chicken, carrots, cauliflower, calamari, chips, cucumbers, corn, couscous, cake, coconut, cookies, curly fries, and chocolate.
6. Memory Lane – Focus on comfort foods to invoke feelings of nostalgia and warmth. Home-style favorites like macaroni and cheese, chicken and dumplings, chili, mashed potatoes, pork chops & gravy, meatloaf, apple pie and chocolate chip cookies are a few potluck hall-of-famers.
7. Heart & Soul - A Soul Food Potluck is a tasteful delight for all to experience and enjoy at least once. Potluck showstoppers may include fried chicken, pork ribs, succotash, corn bread, okra, black-eyed peas, shrimp and grits, fried green tomatoes, collard greens and beans over rice.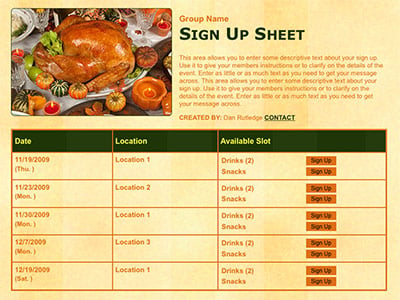 8. Giving Thanks - It doesn't have to be Thanksgiving Day to give thanks and host a party that features all of your holiday favorites. Even if you try a new twist on an old classic, roasted turkey, mashed potatoes, gravy, yams, green bean casserole and pumpkin pie can be enjoyed year round.
9. The Last Meal – Guests are asked to bring a dish that begins with the first letter of their last name. Mrs. Smith can bring spaghetti; Ms. Brown can bring buffalo wings; Mrs. Martin can bring mud pie, and so on.
10. Barnyard Fun - For a fun down-home feel, you can enjoy a collection of dishes made from anything you would find on a farm. Popular meals include barnyard stew, chicken pot pie, roasted pork, sliced turkey, creamed corn, fresh fruits and vegetables, egg salad, and zucchini bread to name a few.
11. Finger Foods - There's no need to polish the silver for this meal because your guests will just be using their fingers! Sliders, taquitos, chips, dips, and countless desserts will be enjoyed. Make sure to have extra napkins on hand!
12. Stuff It – You may want to wear stretchy pants to this potluck – you are sure to leave full! Stuffed peppers, stuffed mushroom and stuffed burgers are delicious options that come to mind.
---
As the host you can decide to assign specific dishes or let guests choose their contributions. An online sign up can help you organize your menu!
---
13.
Book Theme
- There is nothing better than a lively discussion of a good book… unless you, say, pair the perfect menu to go with the books central theme or location setting.
14.
Luau
- Don't forget your grass skirt as the host for this Hawaiian themed event and offer your guests leis upon arrival to help them join you in celebrating island life.
15.
Mom's Favorite
- This is a night to celebrate Mom by cooking her favorite dish!
16.
Fire and Ice
- Some dishes "hot" and some dishes "cool" will make for a vibrant evening from appetizers to main dishes to desserts.