Resources
/
Home & Family
/ Deck the Halls Deliciously!
Deck the Halls Deliciously!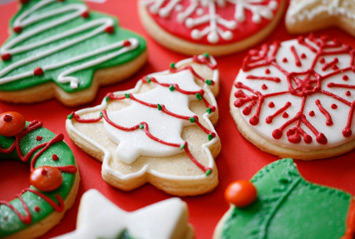 The holiday season is all about spending time with friends, family and loved ones. A snazzy cookie exchange is a terrific way to kick off your seasonal festivities and a delicious way to turn a memory making get-together into a beloved holiday tradition.
A cookie exchange party is a clever way to encourage the spirit of giving, plenty of warm wishes and lots of fun throughout the day. With just a little planning, and very little effort, it can be a secret strategy for getting ahead on your holiday baking and ending up with a Santa-sized platter of fantastic cookies in all sorts of tempting varieties.
Since December is a busy month for almost everyone, try to send out invitations to your guests at least a month before the date of your cookie exchange. For best results, aim for 8-12 confirmed guests. Ask your guests to RSVP as soon as possible, and to let you know what type of cookie they will be bringing. This way you can avoid the dreaded cookie duplication and make sure that their choice fits the exchange. Once everyone is signed up, let everyone know who is coming, how many people will be there, and how many cookies they will need to bring. Typically you should ask each guest to bring either a dozen or half dozen cookies for each guest, plus a dozen to nibble on at the party.
 
If you want, you can request that everyone only makes holiday cookies or expand your collection to include other goodies such as home made candy, chocolate covered pretzels, or other festive sweets. Whether you are a host or a guest, you should always try to bake a show-stopping holiday treat. Choose a delectable cookie that is sweet, tasty & pretty. Make yours an impressive melt-in-your mouth treasure that everyone else wants to bring home.
 
As you linger over the plates piled high with irresistible magic bars, gingerbread men and frosted Christmas trees, plan to tell stories. It could be a story about the cookie's origin, where the recipe comes from, or just a holiday baking memory. Sometimes it's as much fun trading stories as trading cookies.
 
Your friends may have family recipes they wish to share. Once the tasting ends, the recipe swapping always begins. Be sure to request that each guest bring along copies of their recipe, and put them right on the table next to their cookies. As an added treat, you may even want to assemble a booklet of recipes for everyone to take home with them.
 
If you are inspired by visions of powdered sugar, Velvety chocolate & billowy meringue dancing in your head, know that with a bit of careful planning and a few hours spent baking and decorating, you can plan a fun and festive get-together with friends, while swapping cheerful holiday wishes, treats and memories. Bon appetite!